We control endless strips of material with exceptional speed and accuracy
The advanced computer vision system is responsible for

Defect Avoidance
You get an exact and reliable map of defects. The defective material can be avoided in the final processing.
Material Efficiency
Use the defect map to make smart cuts and save the material. No necessity of recycling the whole batch.

Defect Prevention
Analyze the manufacturing device. Knowing of anomalies will eliminate material defects even before they even occur.

Improvement
Data is the core of any improvement. Get a closer look at your product with an online feedback. Adjust the technology on the fly.
Wide range of supported materials
Customer Solutions
CAMEA team has a unique combination of ITS design expertise, OEM manufacturing know-how, R&D, custom design and proficiency across a variety of traffic and industry applications required to make your next project a success.
Turn-Key
This approach consists in providing fully-featured solutions. The services range from civil engineering, component delivery, system installation and integration, staff training to maintenance and post-installation support by CAMEA directly or through authorized partners.
Custom Design
This may include integration of components from various vendors or custom SW and HW implementations and modifications such as country-specific legislation issues, communication protocols or custom GUI.
HARDWARE + SOFTWARE
CAMEA OEM
CAMEA's products can be provided as components to resellers or system integrators who are in need of specific parts. Selling of such products under the business partner's brand is possible.
CAMEA Modular System for Industry
The main goal is to make the inspection system as modular as possible. This way it can satisfy the most customers, as every each one of them seeks a different application.
That is, in general, either collecting statistics in order to get the idea about the number of defects, or using exact defect locations for further material management, for instance cut control.
The system configuration ranges from a single camera with light, measuring one type of defects, to a large set of cameras recording/scanning from different angles and identifying every possible anomaly.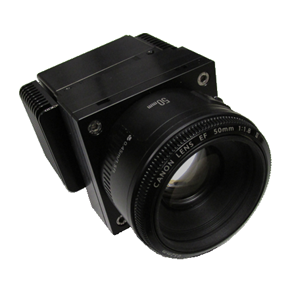 Cameras
The system is equipped with state of the art web inspection cameras with high resolution sensors (up to 16 kpx), outstanding signal/noise ratio and line frequency of up to 250 kHz. The lens is mounted to the camera using a specially developed adapter, which allows remote management of the lens aperture and focus.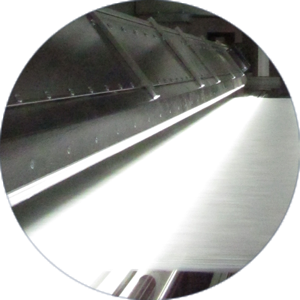 Lighting Unit
CAMEA illumination unit uses different wavelengths of light, eventually with special angle illumination to achieve best detection results even in the worsened conditions. The component is with its illuminance values up to 15,000,000 lux suitable to be employed in the most sophisticated applications with various types of defects to be detected.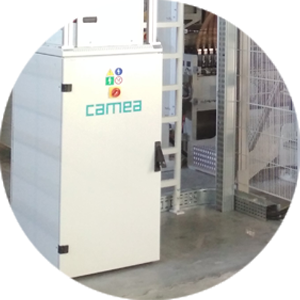 Rack Unit
The core of the system is a rack unit containing computational units for data processing. It also provides a power supply for all subsystems. Using standard industrial interfaces (Ethernet, RS232/485, etc.), it can communicate with other systems. In case of operation under more demanding conditions, it can be equipped with air-conditioning or a ventilation unit.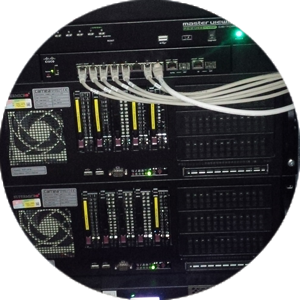 Processing Server
The server mainly handles control of the whole measuring process and communication with particular subsystems. Furthermore it processes image data and archives results of inspection.
Need more information?
Contact us to find the best solution
Get In Touch
CAMEA has a rich experience in deploying systems for industry and transportation
Surface of hourly monitored industrial material
material checked each minute with Web Inspection
Interested in WIS? Get in Touch with the CAMEA Team...